Book: The Mark of the Crown
Title: The Mark of the Crown
        (Star Wars: Jedi Apprentice #4)
Author: Jude Watson
Genre: Sci-Fi/Fantasy
Anna's Rating: 3/5 (At least it sucked less than the last one…it was OK, it just wasn't good.)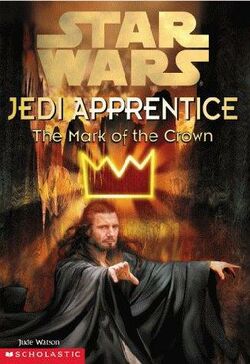 So, at this point I acknowledge that I am addicted, regardless of quality.  Obi-wan and Qui-gon finally get to the planet of Gala after the filler episode that was Book 3…to a mission that really lacks in deeper purpose.
Kinda written in a mystery style, yet I feel like, because it's a kids' book, you're just told how the mystery works.  I wish instead that the author would just continue to pile on more hints so that young readers can solve it for themselves.
Maybe I should write books for young readers someday.
But what would I write about?  Hmm…
Anyway, a couple of quotes:
"[Patience] is not a gift, but a lesson to be relearned daily."
- Qui-gon Jinn, p. 15
"What he taught would live on.  And that was legacy enough."
- Realizations of Qui-gon Jinn, pondering what he would leave behind in this world, p. 128
(Just liked it as a teacher, really.)